Sweet potato
From Allotments4All
Sowing
Seed depth: N/A
Germination soil temperature: N/A
Days to germinate: N/A
Sow indoors: N/A
Sow outdoors: N/A
Plant outdoors: Two weeks after last frost
Growing
pH range: 5.5-6.5
Growing soil temperature: 18-32C
Spacing in beds: 35-45cm
Watering: Low
Light: Full sun
Nutrient requirements: N=low; P=low, K=low
Rotation considerations: Avoid following root crops
Good companions: Marigold
Bad companions: Beetroot, carrot, potatoes
Seed Longevity: N/A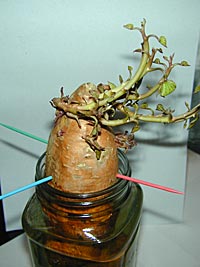 To grow a Sweet Potato Vine
Sweet potatoes in the U.K. are grown mostly in the South. They are planted in the spring by "slips." These are the small rooted pieces of the vine that grow from the "eyes" or buds of the potato.
The sweet potato produces vine-like stems that resemble the philodendron plant. Place the sweet potato in a container of water. Keep the top 1/3 of the potato exposed by placing toothpicks into the sides. The pointed end should be down in the water. In a few weeks a vine with several stems will begin to sprout. The stems are weak; so be careful not to break them.
Fertilize about once a month.
When the shoots are 10-15cm long, gently twist them from the potato. Place the shoots in water so that their bottom halves are immersed. The slips (shoots) are ready to plant when roots appear, usually in just a few days. Don't allow the roots to get longer than 2.5-3cm before planting. Your sweet potato vines can be planted outside in two weeks after last frost to produce sweet potatoes that can be dug and eaten in the autumn.